Pack Bats are a rather intriguing creature. While appearing to be simply small, round bats, ranging in sizes between a baseball and a basketball, they can actually stretch to become much, much bigger.
They have a rather odd habit of swallowing anything that picks up their interest. This may range from small objects like jewelry, branches, other Pack Bats, to large objects like a sword, staff, a small person, more Pack Bats, etc.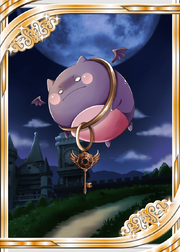 However, despite swallowing all that intrigues them, they do not digest the objects inside them. Not only that, but the amount they swallowed does not correlate to their size after stretching, for unknown reasons. It appears to be larger from the inside than the outside. Thanks to a few 'volunteers', it is now known that air circulation still occurs, presumably through the mouth. The 'walls' of the Pack Bat's belly also has the texture of a leather purse bag.
While they don't digest whatever they swallowed, wild Pack Bat's feed off the residual magic that lingers in the environment.
A few individuals have tamed Pack Bats, feeding them magic power, while in turn utilizing Pack Bats as a method of transportation.